Ready for an upgrade to your home gym?
Stay safe, avoid the crowd, and workout from home.
ShredBar was voted 2020's favorite home pull-up bar. No more need to hang your bar from a doorframe a risk damaging your door, or even worse: bring the door down with you...
ShredBar's Horizontal Gravity-Lock Mechanism is the perfect tool for performing intense full-body workouts at home. From pull-ups, sit-ups, and dips, it helps target muscles in the arms, chest, core, and back.
Super simple installation/ secure buckle lock mechanism. NO SCREWS REQUIRED!
ShredBar features a highly secure lock mechanism that's designed like a buckle. Once you determine the height you want to place the bar, extend it well enough to make good contact with the opposing surfaces, all you need do is snap the buckle lock. Once this is done perfectly, you can rest assured the bar won't come off while you're training. 
Made of slip-resistant foam: It's hard enough to do a pull-up, but doing a pull up while trying to prepare yourself for a possible fall is much worse. Unlike the regular pull-up bars that slip easily often causing serious injury, the ShredBar is different:
It comes with thicker and larger silicon pads that increase slip-resistance and ensure stability. With its all-new anti-slip silicone pad, the heavier you are, the more friction that's generated and the more stable the bar will be. Moreover, it does not leave any unwanted marks on the surface, ensuring that your door or wall stay looking clean and new as ever.
Not only suitable for doorways, works perfectly on opposing walls. This tool requires no screws during installation, so all you need to do is adjust the height, extend it, and clip. As a result, it is suitable for both doorways and opposing walls or hallways.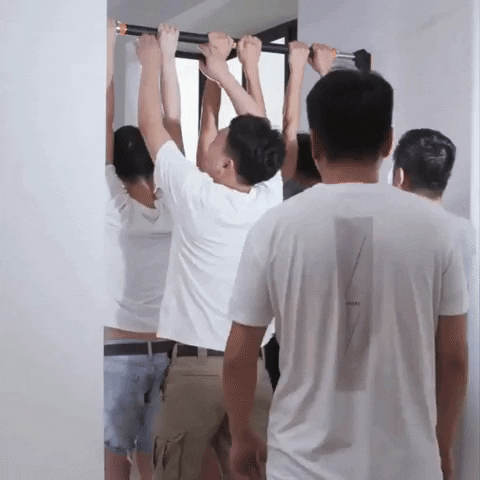 It is made from chrome-plated stainless steel: This pull-up bar consists of high-density retractable thread rods, housed by a chrome-plated stainless steel pipe. Thus, it is durable: won't bend and won't rust.
If you need a pull-up bar that doesn't need drilling holes in your walls and that you can effortlessly attach to your doorframe (or any solid opposing walls) and take down when you're done, this fitness workout bar is it!


Features:
- Adjustable length. Can fit most doorways and corridors
- Comes in 2 different lengths
- Short: 28.3"-36.2" (72cm-92cm)
- Long: 36.22"-47.24" (92-120cm)
- Support a maximum weight of 440lbs (200kg)


Which Length Do I Need? 
Short: For doorway
Long: For corridor
This bar is a real treasure for any fitness enthusiast!
Get your body in shape during this pandemic, especially your arms and shoulders!